Just last week I put together a 3d wooden puzzle ( product's name is Victorian Lantern AMK61 ) with my family. I bought it from the website robotimeonline.com and I was really happy to receive this express package, because I can't wait to hurry finish it.
When I opened the express package, the package was complete and there was no wrinkle. So it didn't make me worry about the quality of the product being damaged due to the long journey, which is quite surprising.
When I got it, I was ready and start assembling it. By the way, I was assembled it with my girlfriend. It was time to test our tacit agreement!
Okay, let's go to the assemble stage. When opened the Victorian Lantern AMK61, the package contained a total of 6 pieces. As in the manual, there were 210 large and small pre-cuts on each parts of wood. By the way, you don't have to worry about the parts that may be damaged during the installation process, because Robotime has prepared spare parts for you. Isn't it very considerate? But even so, you must be careful. What if all the spare parts are damaged?
In this way, she and I have a clear division of labor. I'm mainly responsible for the bottom part of the lantern, and she's responsible for the upper part. I thought we could finish it quickly because our cooperation was very tacit. But we still spent an afternoon, maybe 5 hours, because it was really hard and there were so many small parts…
(The 10,000 words detailed assembly process is omitted here, because I believe the instructions will be more detailed than what I said)
Attached is the actual picture after the assembly is completed.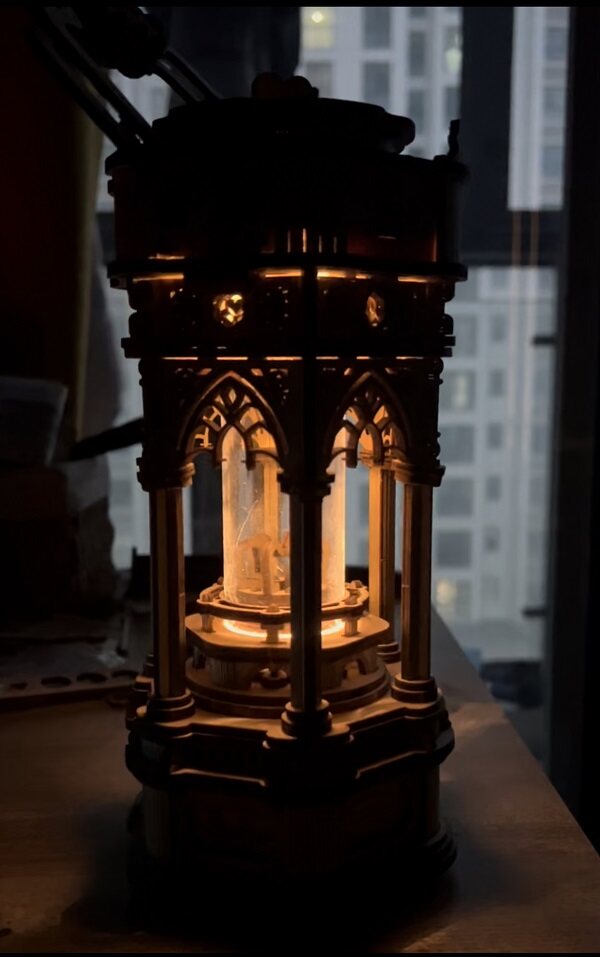 Talk about what it was like to finish this Victoria Lantern Mechanical Music Box:
I like this process very much, because we enjoy the fun of assembling, we don't have to worry about anything during this period, we forget the time, and this moment belongs to me and her;
Although the process is difficult, I never feel tired. I even want to assemble another one, but I only bought this one…
Many times, I play computer games in my rest time. Through this assembly activity, I think this will be more meaningful than playing games, because it increases the time we spend chatting together, and our feelings are also stronger. All right
Assembling this 3d wooden puzzle really requires patience, and also requires the use of both hands and brains. The whole process is closely connected and meaningful.
last thought
I think spending money on this wooden toy makes a lot of sense, not only does it allow me to spend more time with her, it also makes us feel a lot more. At the same time, this is a masterpiece that the two of us completed together. It is very memorable. No matter where it is placed in the home, it will exude the light of youth and love!
文章最后一次修改于